INTRODUCTION
Carpet tiles, also known as modular carpet is a popular flooring option for commercial environments and other relatively uncomplicated spaces. Carpet tiles can create a healthy and comfortable indoor setting. It comes in patterned tiles that are ideal to be used in high-traffic areas and solid colors that can be used to delineate break-out areas. A mix of colors or patterns can be used for wayfinding or to indicate where people should queue at ticket windows.
The modularity of carpet tiles is what makes them an amazing creative tool for any architect or interior designer. Carpet tiles are also lightweight, flexible and have a backing stabilizer which makes it easy to work with. The floor can tell a unique story and reflect the company's identity and creates a unified impression of a large surface. You can play around with different sizes, shapes, and colors. Mix and match of colors and materials can add fascinating expressions to space. Experiment with own combinations to define areas and focal points. Carpet tiles allow you to create different ambiance - bold, powerful contrast, or subtle look. It opens up a new, fresh dimension that encourages creativity to redefine flooring design.
FEATURES
Loop pile with dyed colors that creates the design
Primary backing – to provide turf bind
Backing compound – cushion backing system
Backing stabilizer – for dimensional stability
Carpet Tiles STRUCTURE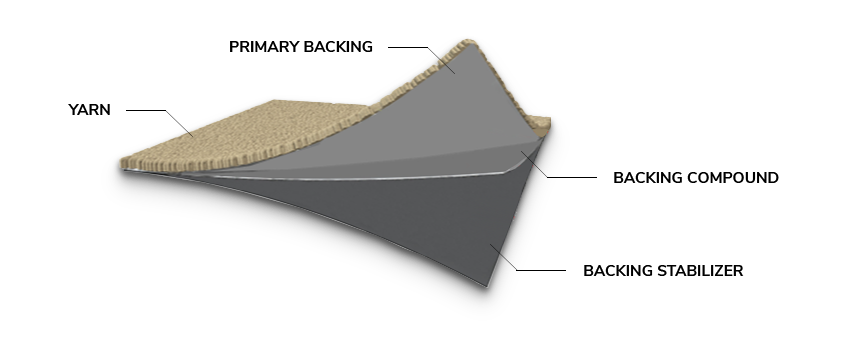 ADVANTAGES
Cost-saving
Ease of removal
Design flexibility
Acoustic insulation
Clean air
Easy to clean
Bacteria free
Easy installation
SPECIFICATIONS
Tiles Size
Yarn
Construction
Pile Height
Primary Backing
Backing Compound
Backing Stabilizers

500 mm (L)
500 mm (W)
3 – 7.5 mm (T)

BCF Synthetic Fiber Olefin

Contract Tufted multilevel loop pile
Contract Tufted Level loop Pile
Tufted level cut pile
Tufted Level loop pileTufted Multilevel Loop Pile
Contract Level Loop Pile

Polyester Spunbonded Fabric
SERVICES
FLOOR DEPOT aims to become a comprehensive flooring provider who is able to deliver end-to-end service to customers. From professional consultation to selling of flooring-related accessories, we have it all. Our pre-consultation service includes on-site measurement, on-site consultation, floor planning and product recommendation based on site suitability. A dedicated sales consultant will be assigned to guide customers through this process. We are also known for our first-class after-sales service – we conduct a thorough site inspection upon installation and all our products and services are covered by warranty.