INTRODUCTION
CHAMWOOD Decking provides the most resilient outdoor flooring solutions and summons the beauty of tropical hardwood with subtle tones and graining. Composite decking is the fastest-growing wood deck alternative in the market.  It boasts low maintenance, high performing deck, with properties that make it resistant to most problems that decks face – scratching, staining, mold and fading.
Composite decking is a man-made building product that includes an equal mix of recycled wood fibers and recycled plastic or WPC (Wood Plastic Composite). Because composite decking products are so durable and impervious to rot, they have a much longer lifespan than wood decks.
Decking is designed to withstand extreme conditions especially rain and sun in tropical climate conditions. Adding a deck to your home can produce a substantial return on your initial investment.  With composite decking, you are ensuring that your deck is beautiful for years with less maintenance.  Composite decking can be a true, low maintenance solution to your outdoor living space by providing a beautiful sanctuary for you and your family.
FEATURES
Decking comprise of structure that resembles the look of wood and embossed wood grains.
AquaPROOF core board
Outdoor Decking STRUCTURE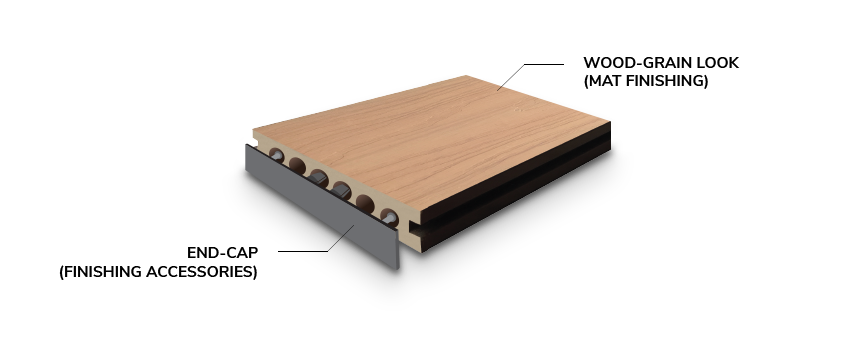 ADVANTAGES
Mold resistant
No sanding required
Environmental friendly
Easy to clean
Stain-resistant
Fade-resistant
Safe for children – no splinters
Low maintenance
Waterproof
Termite proof
Anti-slip
SPECIFICATIONS
Dimension
Joining Mechanism
Surface Treatment
Suitable Area

2700 mm (L)
140 – 145 mm (W)
23 mm (T)
SERVICES
FLOOR DEPOT aims to become a comprehensive flooring provider who is able to deliver end-to-end service to customers. From professional consultation to selling of flooring-related accessories, we have it all. Our pre-consultation service includes on-site measurement, on-site consultation, floor planning and product recommendation based on site suitability. A dedicated sales consultant will be assigned to guide customers through this process. We are also known for our first-class after-sales service – we conduct a thorough site inspection upon installation and all our products and services are covered by warranty.