INTRODUCTION
With the look and texture of wood, laminate flooring is a tough and durable-man product that is easy to clean, pet-proof and easy to install. With core built using aqua-proof board performance again water damage and termite attack has been the excellence features. The structure is made different thickness, widths and lengths, hybrid flooring is great for homes that want the look of wood, but with a floor that delivers great value.
Packed to the brim with easy living advantages, this is ideals for homes and moderate commercial area that want a good looking with high performance.
FEATURES
Solid Overlay – Strong wear-resistance for foot traffic and make the surface scratch resistance.
Decorative Layer – A design layer of high-resolution photo of real wood that is reproduced with sophisticated printing techniques.
Decorative layer – a hi-resolution image that resembles natural wood
Aqua-proof Board – using 4 types of composite materials allows to install in high moisture area.
Multi-layer Balancing File – provides stability of overall structure.
Hybrid Flooring STRUCTURE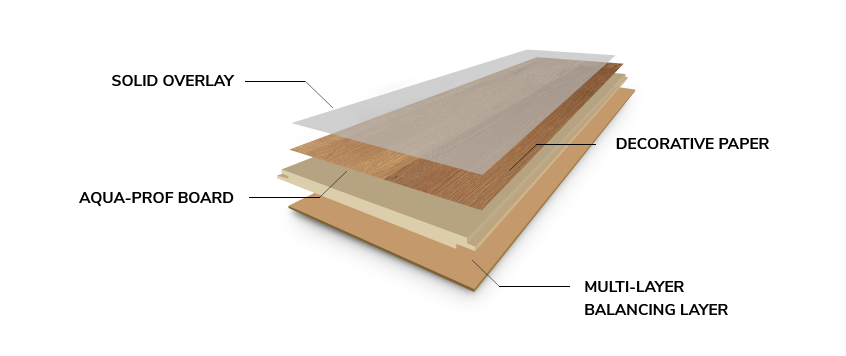 ADVANTAGES
Termite proof
Waterproof
Easy to clean
Anti-Slip
Stain Resistant
Easy to Install
Scratch Resistant
Impact Resistant
Hassle-free Installation
SPECIFICATIONS
WATERPROOF HYBRID 7 LONG

1 carton =
23.66 sq.ft / 8 panels
WATERPROOF HYBRID 7 XTRA

1 carton =
18.90 sq.ft / 8 panels
WATERPROOF HYBRID 7 BIG

1 carton =
22.75 sq.ft / 6 panels
WATERPROOF STRUCTURE 12

1 carton =
21.50 sq.ft / 20 panels
WATERPROOF CHAMWOOD TITAN 12

1 carton =
15.76 sq.ft / 8 panels
SERVICES
FLOOR DEPOT aims to become a comprehensive flooring provider who is able to deliver end-to-end service to customers. From professional consultation to selling of flooring-related accessories, we have it all. Our pre-consultation service includes on-site measurement, on-site consultation, floor planning and product recommendation based on site suitability. A dedicated sales consultant will be assigned to guide customers through this process. We are also known for our first-class after-sales service – we conduct a thorough site inspection upon installation and all our products and services are covered by warranty.