INTRODUCTION
Solid hardwood is always a timeless option - attractive and sturdy, solid wood is one of the most popular choices for homes and commercial spaces. It is the right choice when it comes to deciding the aesthetic you want and the wear and tear the floor will endure. Solid timber flooring is derived from tree trunks of different species. The trees are cut into logs, and carefully inspected for knots and a tight grain pattern. Only the highest quality logs are selected to be made into floors.
Solid timber flooring contains the popular tongue and groove siding that makes it easier to install. The siding allows the wood to naturally expand and contract with the humidity without buckling or damaging the floors. There are two types of pre-finished solid timber or for people who want to finish and stain the wood themselves; an unfinished solid timber option is the less expensive choice.
Solid timber flooring is very durable and is typically 3/4" thick, which means they can be sanded and refinished multiple times to maintain its attractive look.
FEATURES
Each flooring plank is made from one solid piece of wood
Solidwood Flooring STRUCTURE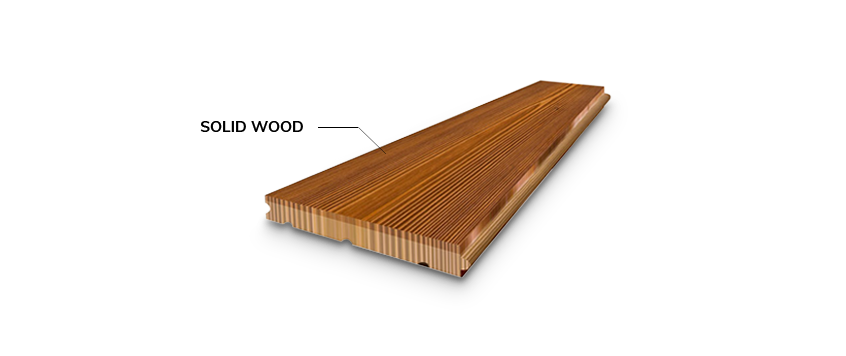 ADVANTAGES
Easy to clean
Clean air
Timeless look
Durable
Acoustic absorption
Fade resistant
Great investment
SPECIFICATIONS
Board size
Surface Treatment
Edge Treatment
Joining Mechanism
Area Suitable

Random length,  mm (L)
73 – 145 mm (W)
11 – 20 mm (T)

All residential
Light Commercial
Moderate Commercial
SERVICES
FLOOR DEPOT aims to become a comprehensive flooring provider who is able to deliver end-to-end service to customers. From professional consultation to selling of flooring-related accessories, we have it all. Our pre-consultation service includes on-site measurement, on-site consultation, floor planning and product recommendation based on site suitability. A dedicated sales consultant will be assigned to guide customers through this process. We are also known for our first-class after-sales service – we conduct a thorough site inspection upon installation and all our products and services are covered by warranty.